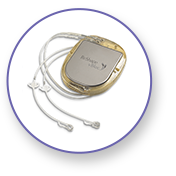 ReShape vBloc

A Completely Different Approach to Obesity
For Patients with a BMI of 35-45*
With so many patients opting to avoid bariatric surgery, it's obvious there's a gap between patient need and a practical solution. Only 1% of clinically eligible patients actually choose bariatric surgery.1 Now you can give your patients another treatment option. The ReShape vBloc™ Program fills the gap between traditional bariatric surgeries, allowing you to do more for your patients who require more than drug therapy and dietary advice. ReShape vBloc is a minimally invasive therapy that does not alter your patient's anatomy. The ReShape vBloc Program offers patients:
Neurometabolic therapy
Leveraging existing neuromodulation therapy to target the vagus nerve, patients can feel fuller longer and earlier in their meals.2
1 year of comprehensive coaching
Integrating easily with your existing practice resources, ReShape vBloc patients receive coaching tools and support to maximize satisfaction and success.
Clinically significant
weight loss
Results speak for themselves. On average, ReShape vBloc patients are losing 28% excess weight loss within 12 months.3
Customizable Neurometabolic Therapy
The Advantages of Neuroblocking
ReShape vBloc Therapy is delivered via a rechargeable neuroregulator that is implanted subcutaneously and attached to the vagal nerve. Proprietary bioelectronic neuroblocking technology intermittently blocks hunger signals on the vagus nerve, reducing hunger feelings that result in earlier fullness.2 Multiple studies show benefits of this therapy are significant, offering patients a real weight loss alternative with less restrictions and risks while giving bariatric practices a new opportunity to effectively treat more patients.
Hunger Control: Many patients report feeling fuller earlier in meals, and maintaining that fullness longer2
Durability of Weight Loss: Patients who received ReShape vBloc were more successful at maintaining their weight loss at 18 months4
Safety: ReShape vBloc related serious adverse event rate (SAE) is 3.7%5,†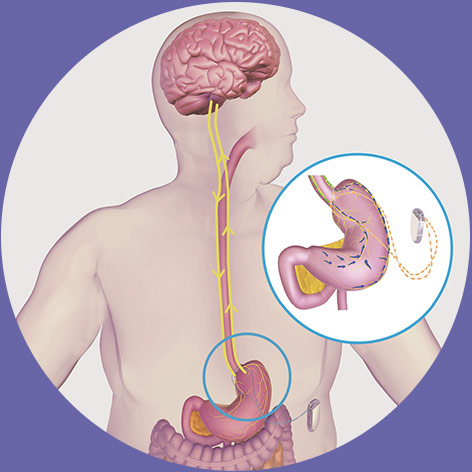 ReShape vBloc Therapy uses a neuroregulator to deliver intermittent, high-frequency electronic pulses to block vagal nerve activity.
Comprehensive Coaching
Critical to Patient Success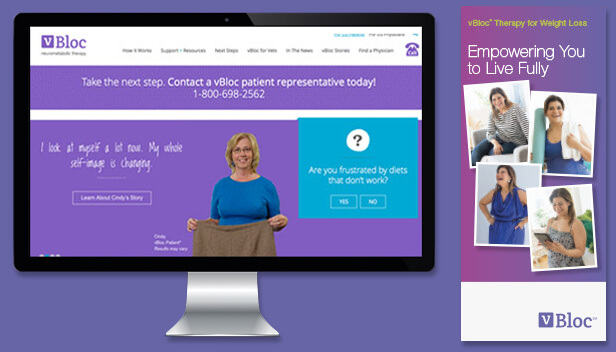 Comprehensive aftercare and patient coaching is a critical component of the ReShape vBloc Program. In fact, many ReShape vBloc patients credit the aftercare program as an important aspect of their success.
A physician-led multidisciplinary team, including a dedicated Registered Dietitian or nutrition coach, to support and keep patients accountable is critical to your patient's success. To support your aftercare program ReShape Lifesciences™ has developed a comprehensive set of tools and resources.
Supplemental Coaching Options: ReShape Lifesciences can provide supplemental coaching options to help support your patients
Patient Education Materials: Engaging materials include motivational and educational handouts
Clinically Significant Weight Loss
average excess weight loss (EWL) within 12 months for patients receiving 12 hours of active therapy per day3
of patients who received ReShape vBloc Therapy were able to maintain, decrease, or discontinue their diabetes medications (in a feasibility study of 28 patients) while achieving improved glycemic control at 12 months6
more weight loss in the first year than patients who did not receive ReShape vBloc5
Additionally, ReShape vBloc Therapy is the safest implanted device for weight loss7 with only 3.7% related serious adverse events reported.5,†
ReShape vBloc ReCharge Trial Data3,8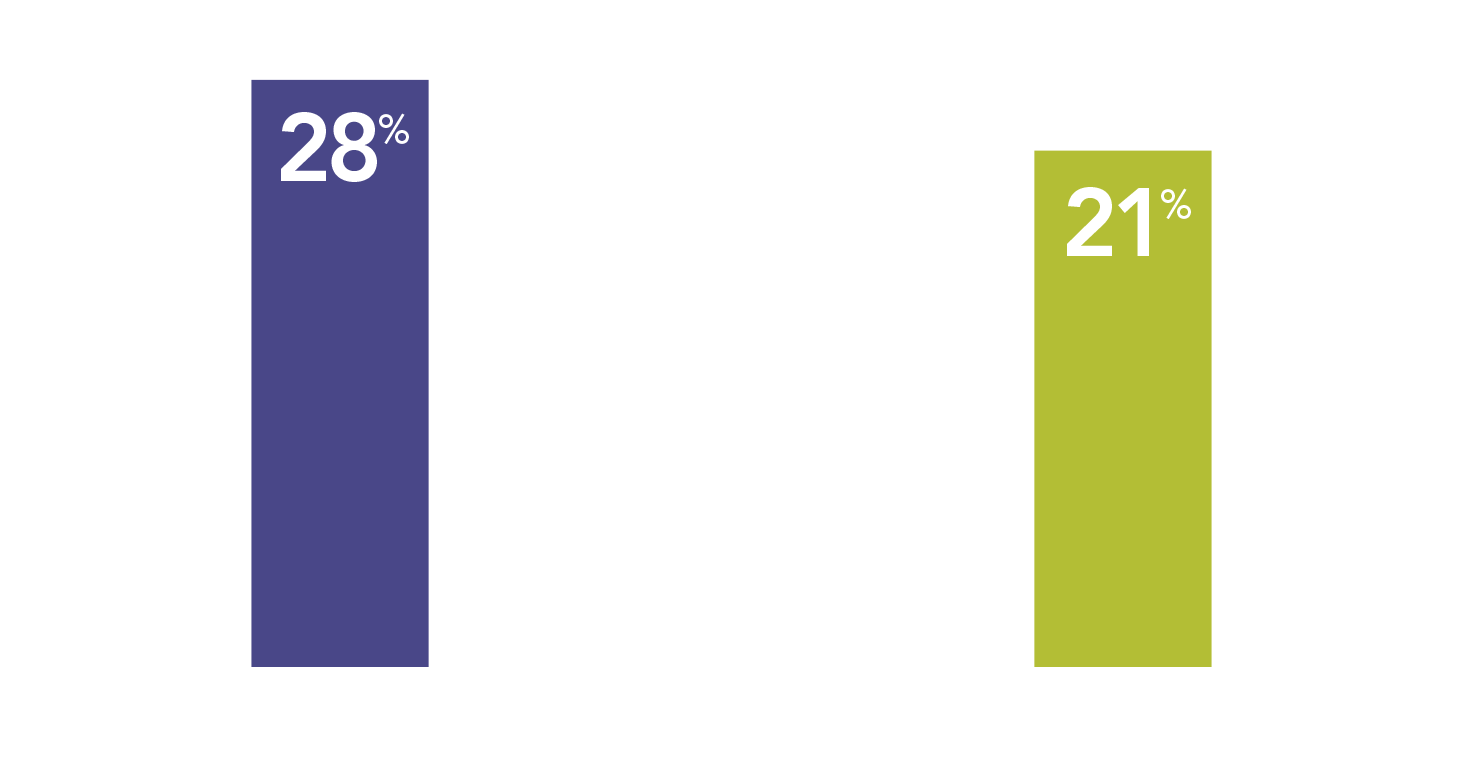 Empowering Your Patients to Live Fully§
Ready to ReShape Your Practice?
*BMI of 40–45 kg/m2, or 35–39.9 kg/m2 with related health conditions.
†Device, implant/revision procedure or therapy related.
‡When ReShape vBloc was used for 12 or more hours per day.
§Results and patient experience may vary.
References:
1. Mechanick JI, Youdim A, Jones DB, et al. Clinical practice guidelines for the perioperative nutritional, metabolic, and nonsurgical support of the bariatric surgery patient—2013 update:cosponsored by American Association of Clinical Endocrinologists, The Obesity Society, and American Society for Metabolic & Bariatric Surgery. Surg Obes Relat Dis. 2013;9(2):159-191.
2. Three Factor Eating Questionnaire (TFEQ) on file in PMA P130019 and with ReShape Lifesciences, Inc.
3. Data analysis of 120 patients in the active arm of the ReCharge trial who received 12 hours or more of therapy per day, as directed by the trial protocol. Data on file in PMA P130019 and with ReShape Lifesciences, Inc.
4. ReCharge postop nutrition protocol on file at ReShape Lifesciences, Inc. and FDA IDE study design.
5. Ikramuddin S, Blackstone RP, Brancatisano A, et al. Effect of reversible intermittent intra-abdominal vagal nerve blockade on morbid obesity: the ReCharge randomized clinical trial. JAMA. 2014;312(9):915-922.
6. Shikora S, Toouli J, Herrera MF, et al. Vagal blocking improves glycemic control and elevated blood pressure in obese subjects with type 2 diabetes mellitus. J Obes. 2013;2013:245683. doi: 10.1155/2013/245683.
7. Adverse event comparison between P130019 SSED, Lap Band SSED (P000008), Realize Band SSED (P070009).
8. Apovian CM, Shah SN, et al. Two-Year Outcomes of Vagal Nerve Blocking (vBloc) for the Treatment of Obesity in the ReCharge Trial. Obesity Surg. 2016;DOI:10.1007/s11695-016-2325-7.