Virtual Health Coaching From the Comfort of Your Home
Prescribed by your doctor and covered by insurance*
ReShapeCare™ is an effective, convenient virtual health coaching program that uses video-based counseling and is typically covered by your insurance. It works in partnership with your doctor, to help you set and achieve your goals.
Why ReShapeCare?
You will work with a highly trained team of Registered Dietitians, Registered Nurses, and certified health coaches of your choosing. You will work with the same coach throughout your journey.
Utilizing a clinically proven, customized approach, a typical program consists of 26 user-friendly video sessions with a certified health coach; progress tracking; device integration; and nutrition, fitness, and behavior resources.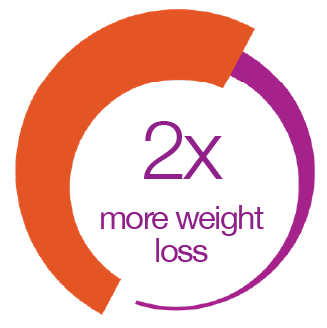 Clinically Proven
With ReShapeCare, the results speak for themselves. People who use virtual health coaching lose 7.7% of their total body weight, compared to 3.4% total body weight loss for people who don't.
Johnson K, Alencar M, Coakley, K, Swift D, Mermier, C, Amorim F, Gibson A. (2018) Telemedicine based health coaching is effective for inducing weight loss and improving metabolic markers. Telemed J E Health. 2019 Feb; 25(2):85‐92. doi.org/10.1089/tmj.2018.0002).
Why Virtual Health Coaching?
In your pajamas, in your gym clothes after a sweat session, or on your couch without needing to get a babysitter—ReShapeCare is available to you from the comfort of your home. There's no commuting, no waiting, and no wasted time. Just real-time support when you need it.
Use the telemedicine app on any device you prefer to get the boost of help you need from our expert health coaches.
To learn more about ReShapeCare you can reach us at 1-855-ReShape
*ReShapeCare Program is covered by most insurances, including Medicare with up to 26 sessions per reimbursement year